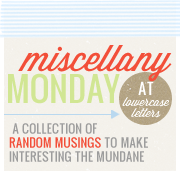 ONE
- We are cleaning out, decluttering, Spring cleaning the entire house!
Wow!
What a task this has turned out to be. I'm reminding my husband that it's going to get worse before it gets better! We have a small home and being limited on space seems to make everything worse when trying to sort through things. The remarks - "I thought you were cleaning" have come up, but just wait! When I'm done this will be one fine, organized home! With
lots
less laying around for the little ones to get into or mess up! Organization is the goal for this month!
TWO
- Birthday season is coming up fast for our family. My daughter Megan will be
Sweet 16
this Friday. Then I turn the
BIG 4 0
the week after that. Two days later my baby will be 3 (still trying to process that). Then two weeks after that my daughers Madi and Jessie will be 15 and 13 on June 9th and 10th.
THREE
- Family Fun Fact - All
six
of my girls have summer birthdays and all
four
of my boys have winter birthdays.
FOUR
- Four of my teens will be going on mission trips for the first time this summer. We are
very
excited, but as a mom I'm a little nervous too. Please pray that this will be life changing for each of them. Elle leaves for Ireland in June, Pheonix goes to Czech in July and Megan and Madi will go to Washington DC in July.
FIVE
- Amidst all the birthdays and organizing, my oldest daughter Elle is graduating in less then two weeks (on my birthday). I'm so proud of her and really excited for this day. She will be graduating with
CHALC
.
SIX
- The swimming season has officially begun! My kids couldn't wait any longer and this past weekend they were the first to jump in my parent's pool! Despite the warm temps outside, the pool was still a chilly 68 degrees!
Brrrr
. Not warm enough for me to swim, but I am just as anxious!
SEVEN
- Yesterday was a
great
Mother's Day. I had a shower by myself WITH hot water! Breakfast in bed with no little ones sticking their fingers in my food! That in and of itself would have made my day, but it only got better from there! We went to a beautiful church service and my Marlee girl went in her class with only a few tears, so I got to sit and listen to an entire church service (this is rare, I usually get paged to come get her). We had a picnic lunch after church with my parents that included a chocolate fountain and fresh fruit to dip in - oh and gummy bears! If you've never tried a chocoalte covered gummy bear you're missing out! Then my kids went swimming again (pool temp was up tp 70 this day), had some fun jumping on the trampoline, then had a nice visit with my 92 year old Grandmother. We came home, put the kids to bed and Rod and I curled up to watch a movie. A very good day!
EIGHT
- While cleaning out and organizing it's been bittersweet putting all my baby items in the sell pile (garage sale coming up this Saturday). I honestly never thought I'd be out of the baby stage. I thought
"baby fever"
would be my forever condition! But over the past year I have really felt such peace and almost glad I'm done having babies. I still love to see a newborn and a pregnant belly is beautiful, but I'm really ok that it's not me!
NINE
- We have family that lives near the
beach
in Delaware and we visit often (we try monthly). We love going out on their boat! The kids love to fish in the bay and swim in the ocean! Always a great trip!
TEN
- I've been going to the gym and working on my weight for close to 10 weeks. I've lost 10 lbs and approx 18 inches from my bod. It's going way slower then I'd hoped for, but progress so I'm happy.