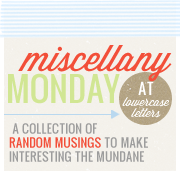 As Carissa says ~ write your randoms!
It's a
C R A Z Y
week for me! 212, 175, 50, This is the amount of favor bags I need to fill for my daughter's senior banquet, name cards I need to make and letters I need to write for my kids missions trips this summer. In addition to my normal, crazy life - that I love by the way. (I know someday I'm going to be old and bored and wish for these days).
So thats all the time I have for this weeks randoms!! Gotta get back to work!
Enjoy your week!